AUTOMOTIVE LOGISTICS – SPECIFIC METAL PACKAGING
As a well-known specialist in the design and manufacture of specific packaging for the automotive industry, Humery SA offers its skills to support your projects.
A multidisciplinary team of 20 technicians and marketing experts will take charge of your projects, from the drawing of up specifications to the development of pilot series. They will supply a specifically designed solution for each problem, to provide you with a quality finished product, in accordance with your requirements, and taking account of all your operational constraints.
STUDY AND DESIGN
A design consultancy made up of 10 project managers.
Design / Innovation - Research & development
Drawing up of specifications
Technical-economic study and optimisation of the flow of parts
Interface with your technical teams for digital exchanges and plans
Study and design in the 3D CAD volume software SolidWorks (with Catia V5 and Siemens NX interface)
Participation in and leading of distance meetings by videoconferencing
DEVELOPMENT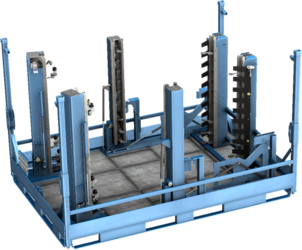 A workshop for the manufacture of prototypes and tooling comprising 6 professionals.
Solution modelling
Development and improvement of the prototype, until the series is confirmed
Definition of the tooling for manufacture and series monitoring
Assistance with the ramping up of your equipment
METHODS AND INDUSTRIALISATION
A Methods and Industrialisation office comprising 3 people.
Drawing up of the manufacturing dossier
Programming of the machines with digital commands
Excellent knowledge of the automotive sector
Source of proposals for innovative and ingenious solutions
15 years' experience in Delegated Engineering